My 10 Favorite Night Photos of 2013
This post is not only a look back on some of my favorite night photos from 2013, but is also the first post and official launch of this blog!
I've wanted to create a blog dedicated to night photography for quite some time now, so am unbelievably excited to finally get this out into the world. Night photography is one of my biggest passions in life, and my sincere hope is to spark that fire in others and make this incredible pursuit fun and accessible for everyone.
↓ (If you want to skip down to the photos, click here) ↓
---
A Little About Me
I've had a passion for photography as long as I can remember. Some of my fondest childhood memories were of taking long road trips with my Dad and snapping roll after roll of film with his 35mm camera.
One of my best college experiences (that I can remember, at least) was taking an Introduction to Photography course with my Uncle and Grandma, and us subsequently turning her garage into a makeshift darkroom. Our gear was some of the cheapest we could find, we had to "light seal" the room with duct tape and spraypainted cardboard, and our hands often reeked of stop bath and fixer, but I wouldn't have changed a single thing.
My photography fell by the wayside for several years as I worked on my degree in Computer Science. As I neared graduation in 2006 and was wrapping up my final quarter, it was then that I fell in love with photography all over again. Night photography was completely foreign to me at the time, but that all changed when someone showed me Troy Paiva's Lost America work...
It was like nothing I had ever seen and I was immediately hooked. Within weeks I had purchased my first digital SLR (a Canon EOS 20D) and was determined to learn anything and everything I could about the world of night photography. Light painting, star trails, Milky Way photos, moonlit landscapes, fireworks, urban nightscapes... I started consuming every bit of information I could get my hands on and haven't turned back.
In my opinion, mastery is not a destination. Mastery of an art is an ongoing and ever-evolving process of learning and honest self-evaluation. As I continue on my own journey, my hope is to not only use this blog to share everything I've learned thus far but also to open up the dialog to others and make this as helpful a resource as possible to everyone out there who loves night photography as much as I do.
OK, enough of that. Now on to the photos. ;)
---
My Favorite Night Photos of 2013
Listed in no particular order, here are 10 of my favorites from the many night photos I took in 2013. Some of the photos I've selected for artistic merit, some for the effort involved in getting the shot, and some because I just plain like 'em. ☺
Chimney
Taken near the Salton Sea during a waxing half moon, the remaining walls of this old building are illuminated from camera left by moonlight and from camera right by the lights of a geothermal plant about a mile away (note the different color temperatures of light). I love the palette of colors and textures on the walls and chimney, as well as the interesting balance between natural and artificial light.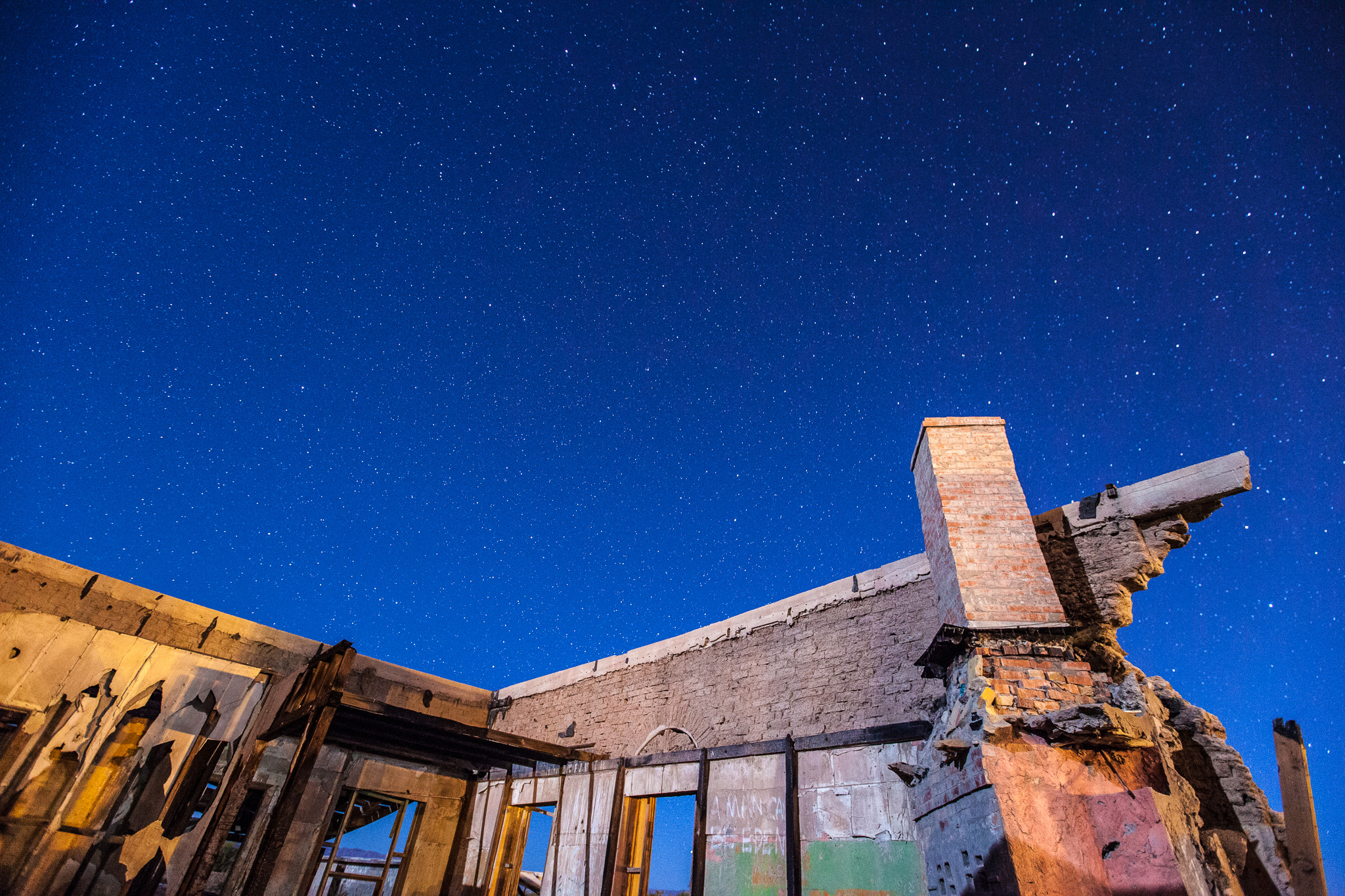 Wrightwood Sky
After a winter storm passed over the local mountains, I drove up to Wrightwood, CA to take some photos before all the snow melted. This was taken near Inspiration Point along Highway 2. Some of the light on the trees and hillside is actually from the top slopes of Mountain High winter resort, about ¾ mile away.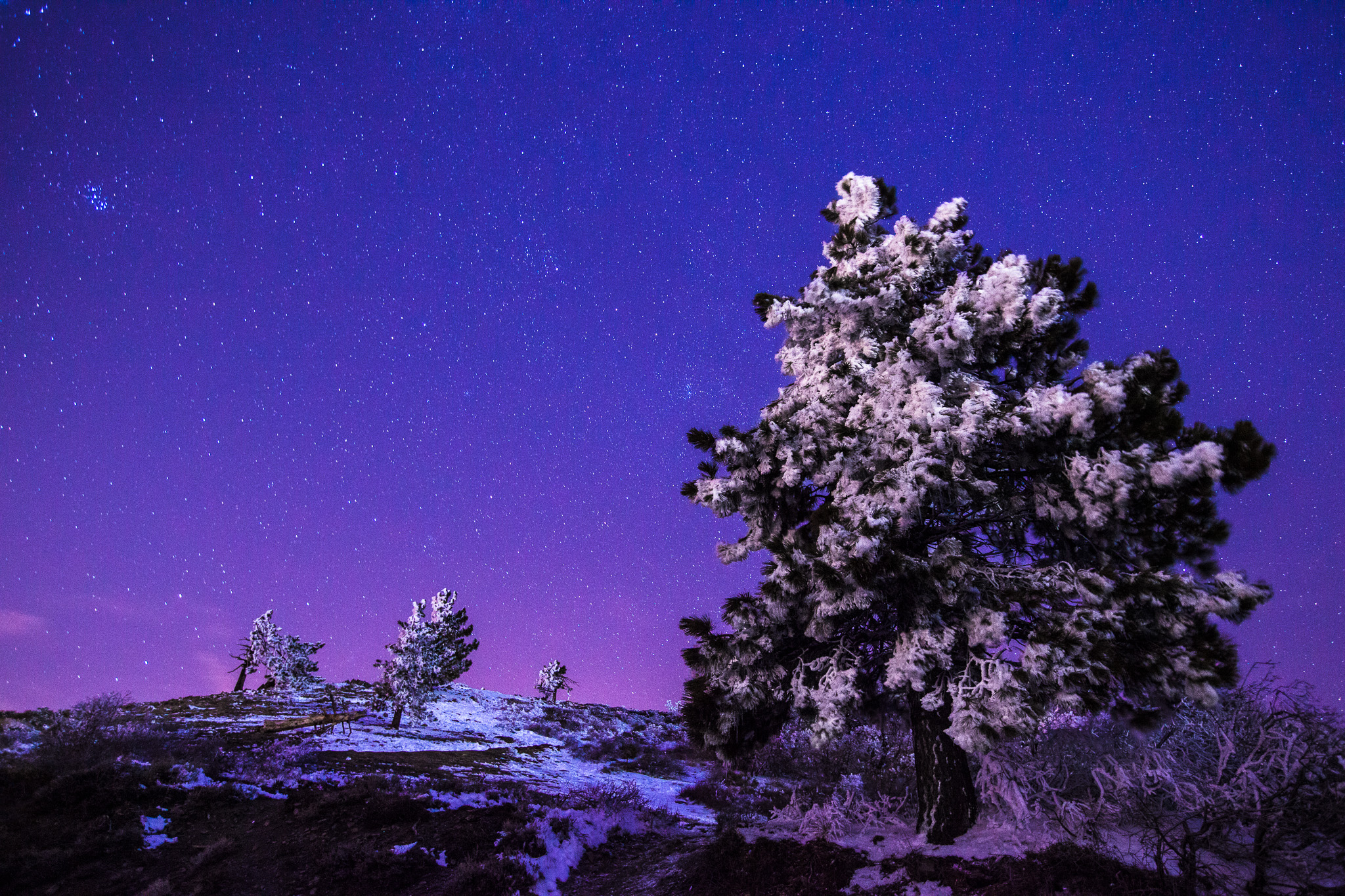 Happy Holidays
My uncle Pat Mahoney and I have been talking about creating this Christmas card photo for over 5 years now, but finally got out to make it happen this year. We drove deep into Mojave National Preserve during a new moon to get the darkest skies possible.
With the assistance of a ladder, a portable 12V battery pack (hidden behind the rock near the bottom of the frame) and an inverter, we decorated a small Joshua tree with multiple strings of LED lights and brought Christmas to the middle of the desert. ;)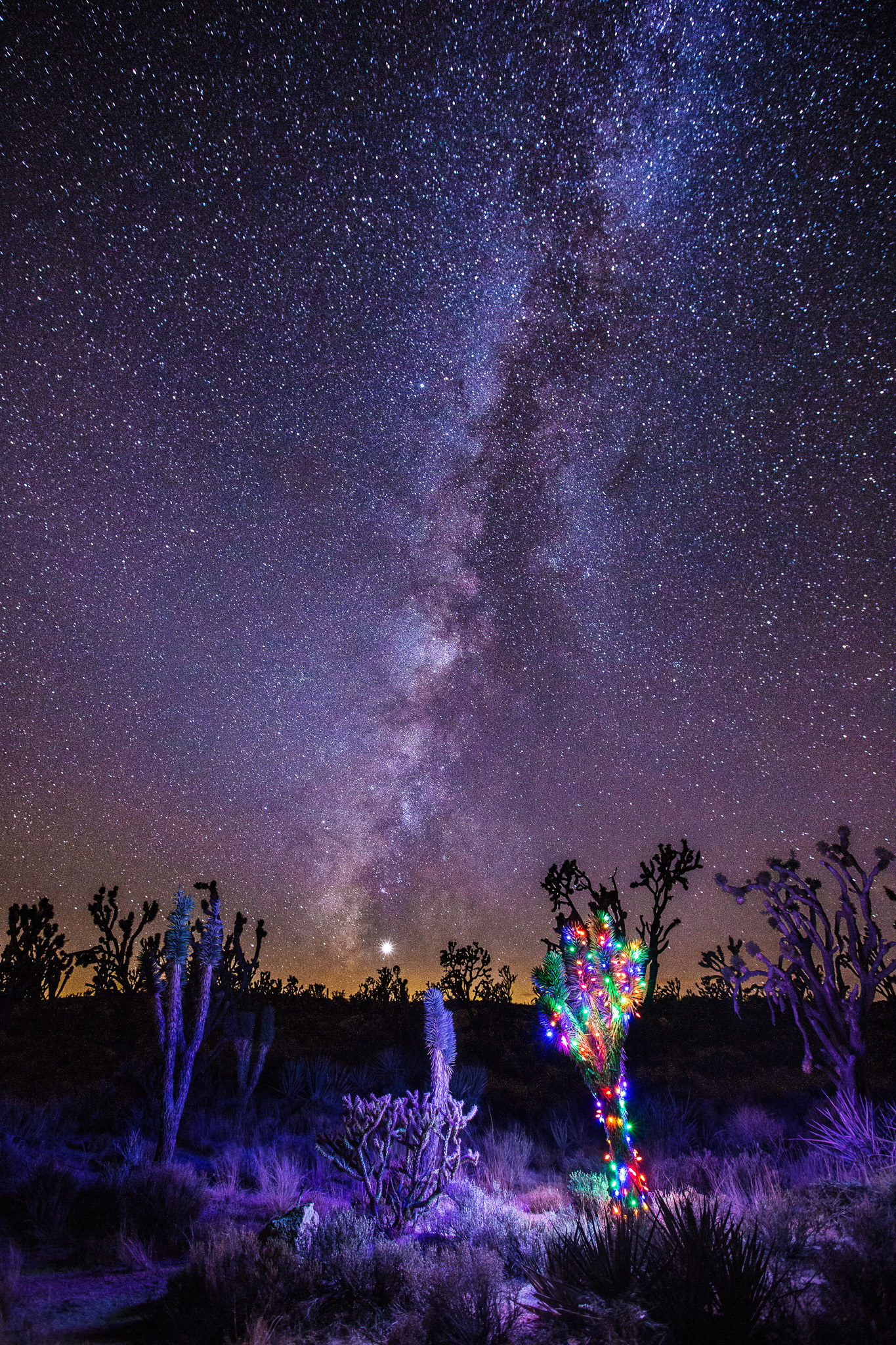 Window Frames
Shot along the back side of the main wall shown in the Chimney photo earlier in this post, moonlight pours through long-broken windows as the warm artificial glow of a distant power plant lights what's still left of this building.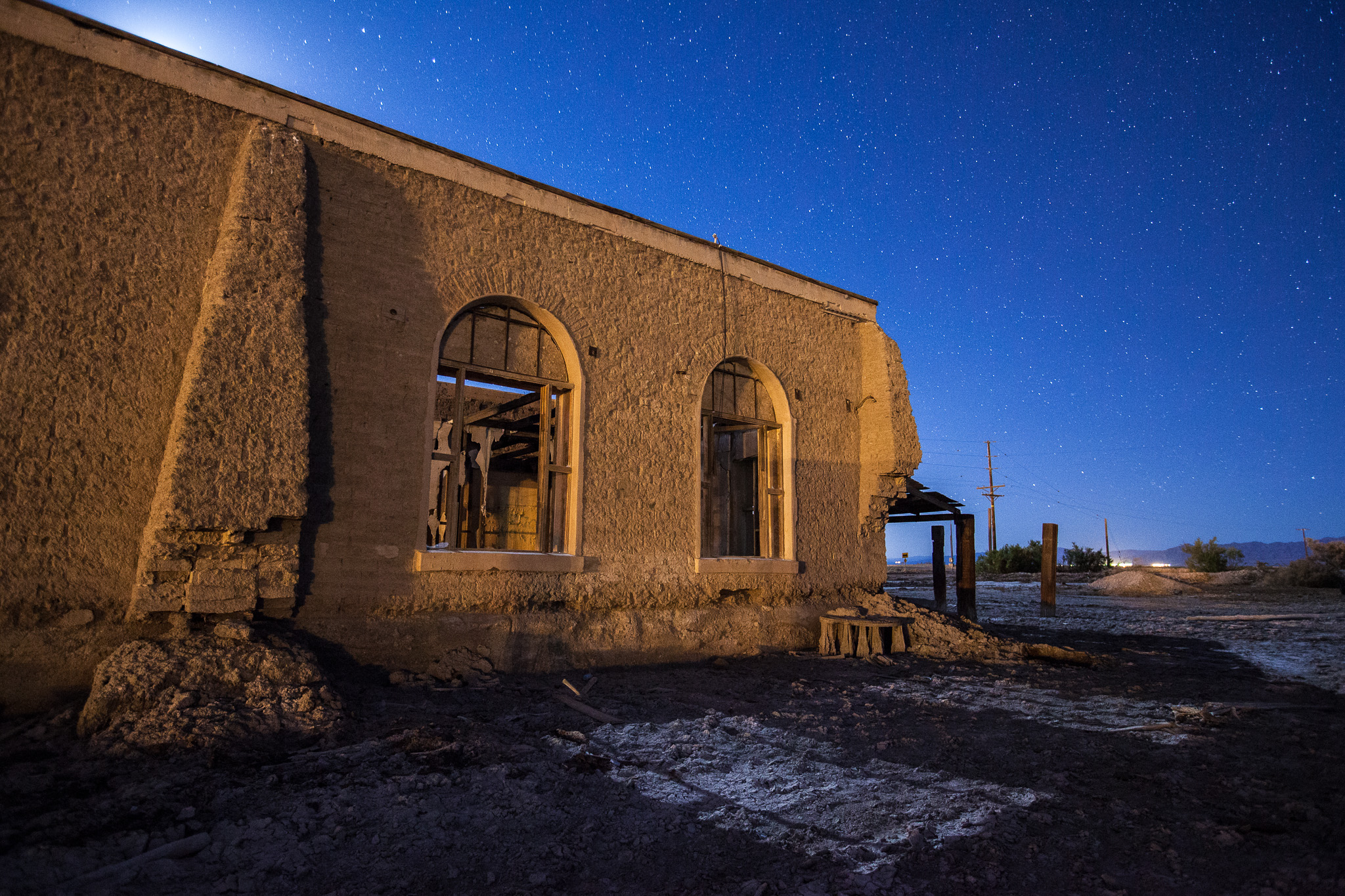 Desert Life
Some nights I have huge amounts of energy and shoot sunset to sunrise. Other nights, not so much... As I packed up my car one evening for a long night of photography and hiking trails by headlamp while staying with family near Wrightwood, I came to the quick realization that my motivation just wasn't there.
Not one to waste dark skies, I instead set up my camera and tripod in the front yard and used my Canon TC-80N3 remote to take 2½ hours of exposures for me while I enjoyed a fireplace and a few ciders. ☺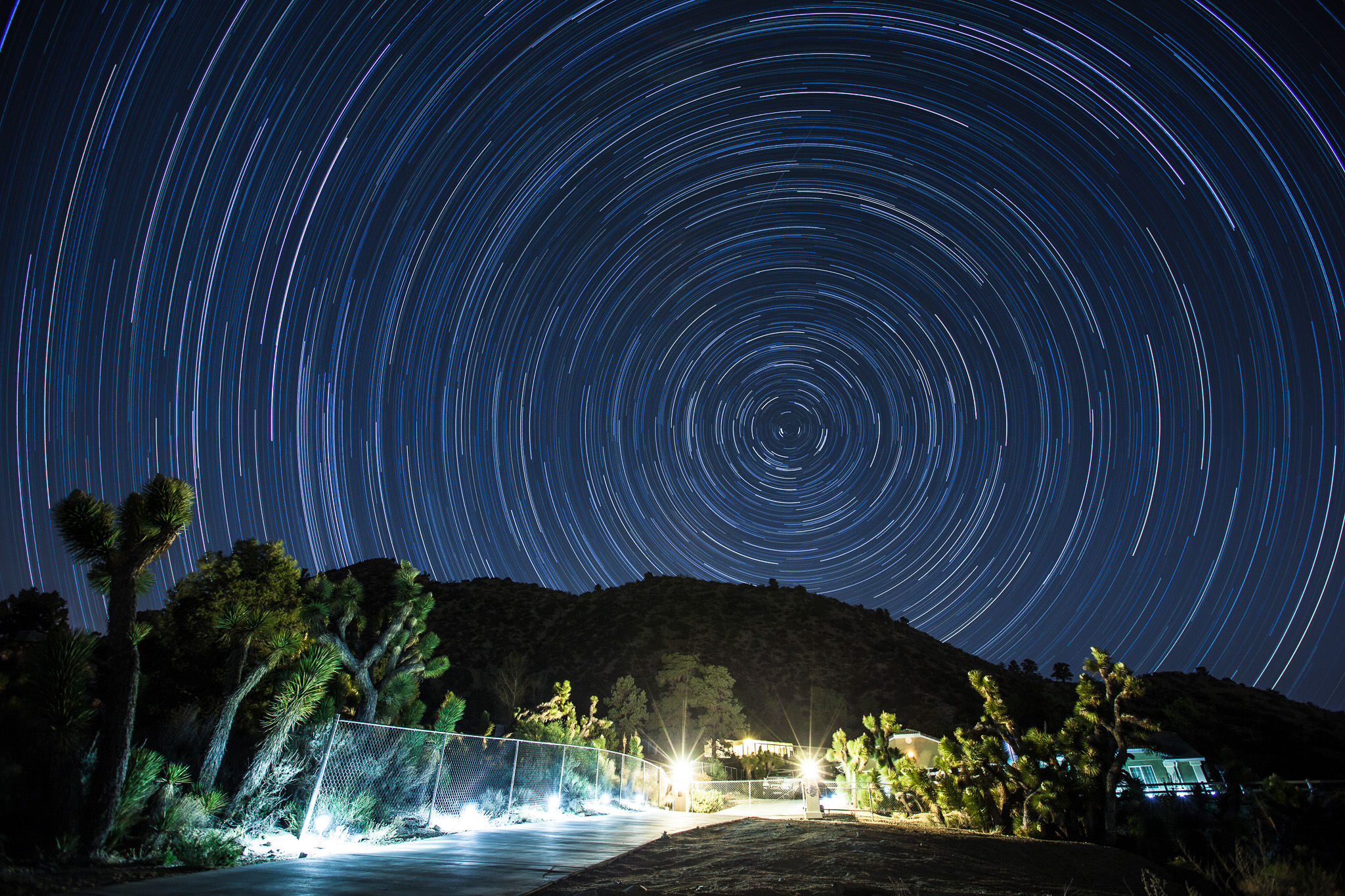 Draconids Meteor
While the Draconids meteor shower turned out to be a total bust this year, the experience of laying out under the stars for several hours in the middle of the desert seems to always be good for the soul. Something about being far away from city lights and gazing skyward in silent solitude brings perspective and clarity to your life. This photo shows a single Draconid meteor and the incredible array of colors that showed up in the sky that night (I boosted the vibrance, but otherwise didn't alter the colors present).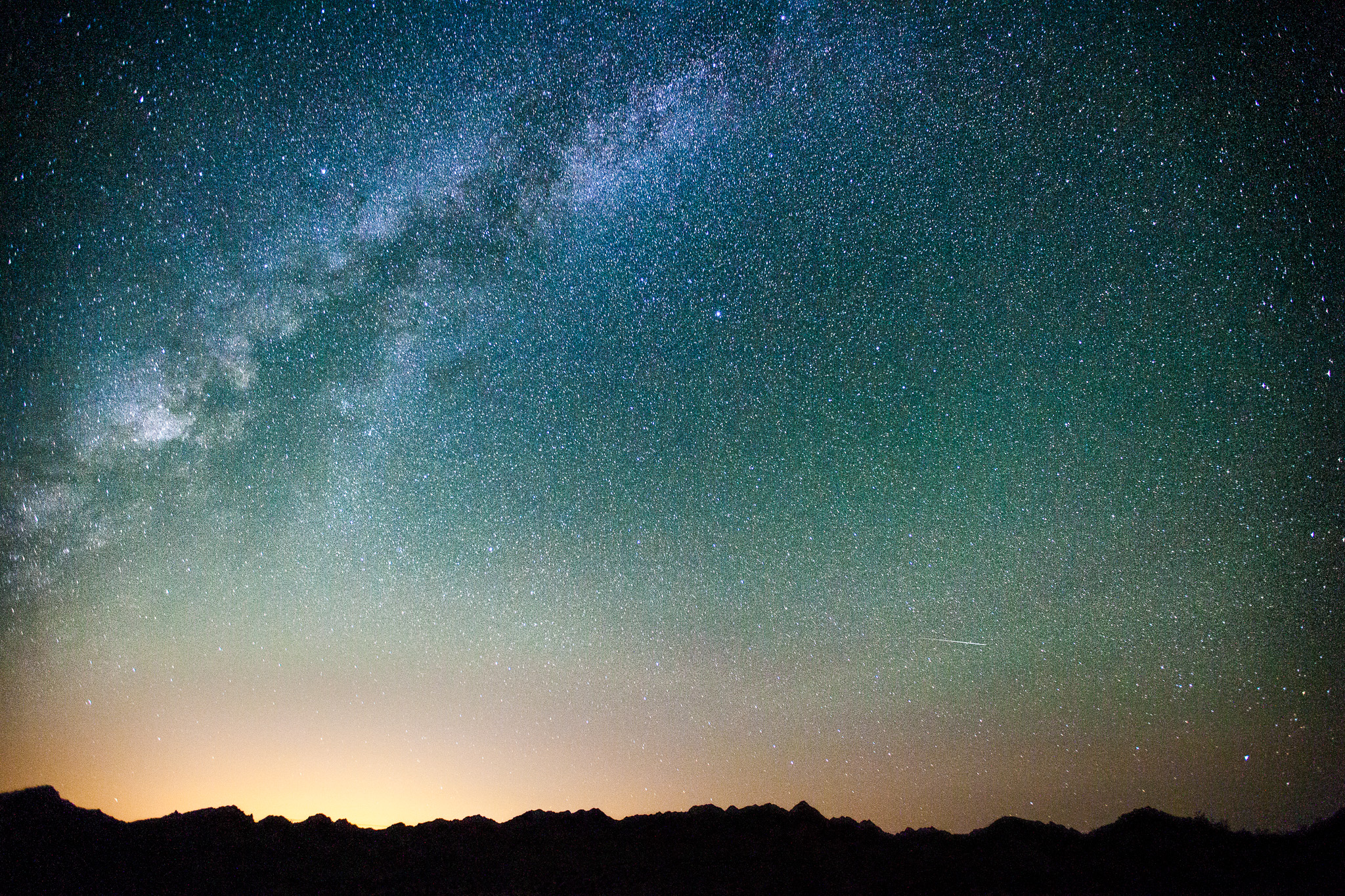 Salton Sea Tree
This photo represents a major milestone in my journey to becoming a creative professional. I took it while teaching my first official night photography workshop (as part of Sandi Wheaton's awesome Desert Photo Tour). I was lucky enough to have an amazing group of students who all captured some great images and helped make the experience incredibly rewarding. This particular image was shot during twilight near the southeast shore of the Salton Sea.
Amboy Salt Flats
A good example of why great light should never be ignored, even when you're exhausted. I had just finished shooting the Geminids meteor shower (see photo after this one) after only half an hour of sleep and several hours of driving as I made my way south through Mojave National Preserve. The blue hour was upon me as I passed by the Amboy salt flats.
Although I was already incredibly tired by that point, I forced myself to pull off to the side of the road and take a few shots to take advantage of twilight. This spur of the moment photo on my way home ended up being my favorite of the whole night.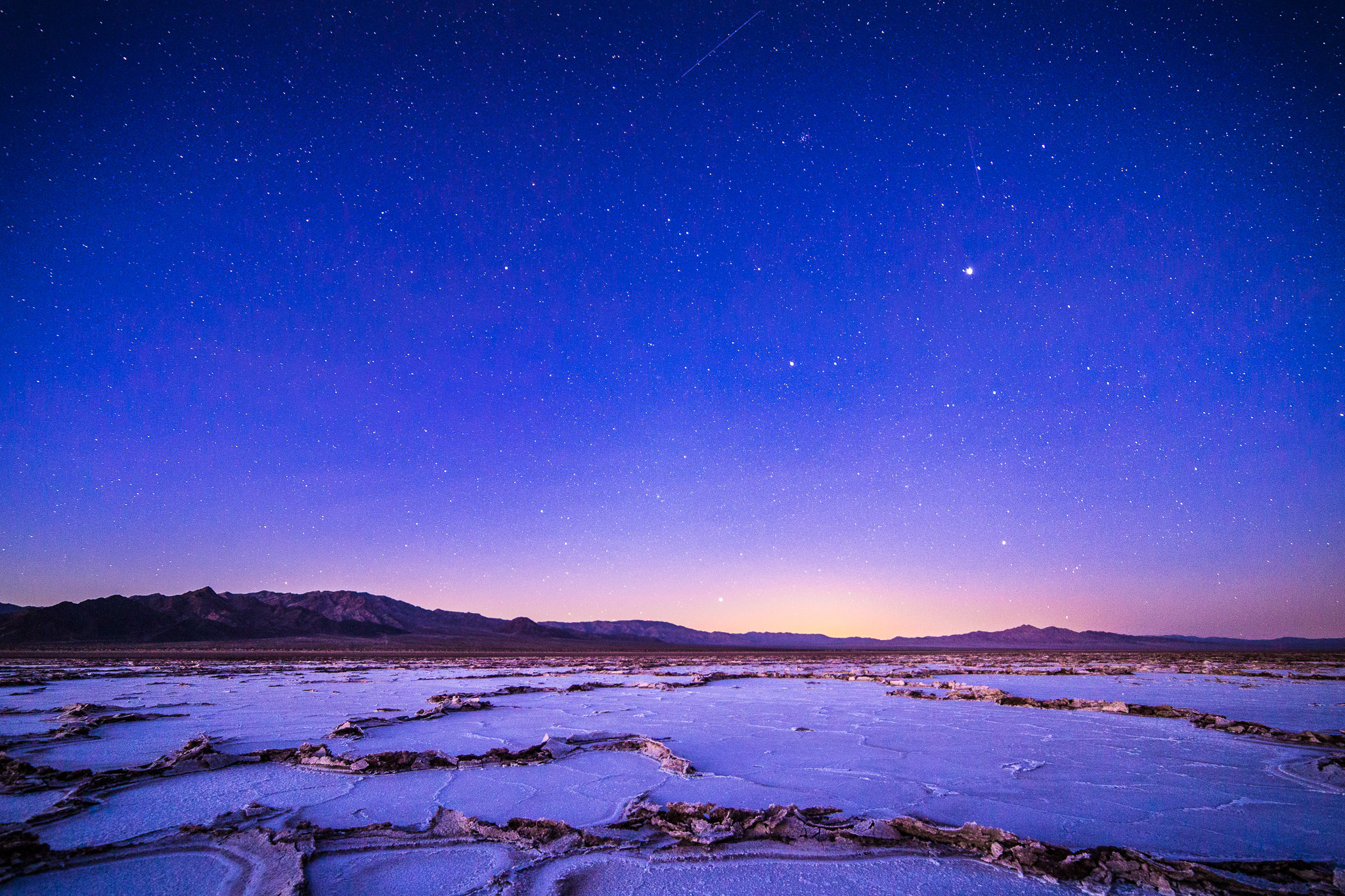 Geminids Meteor Shower
I've wanted to capture a good meteor shower composite photo for awhile, so decided to take advantage of the Geminids shower in mid-December. The moon didn't set until around 4:00 am, so the ideal window to capture meteors only lasted about an hour as dawn approached.
All meteors shown in this photo were captured over the span of approximately 45 minutes (shooting a continuous series of exposures for the entire duration). One exposure was chosen as the base of the image, then each meteor exposure added as a layer, masked, and rotated around Polaris to better show the radiant point of the meteor shower.
For anyone interested in the technique I just described, check out David Kingham's excellent post Complete Guide to Photograph the 2013 Perseids Meteor Shower.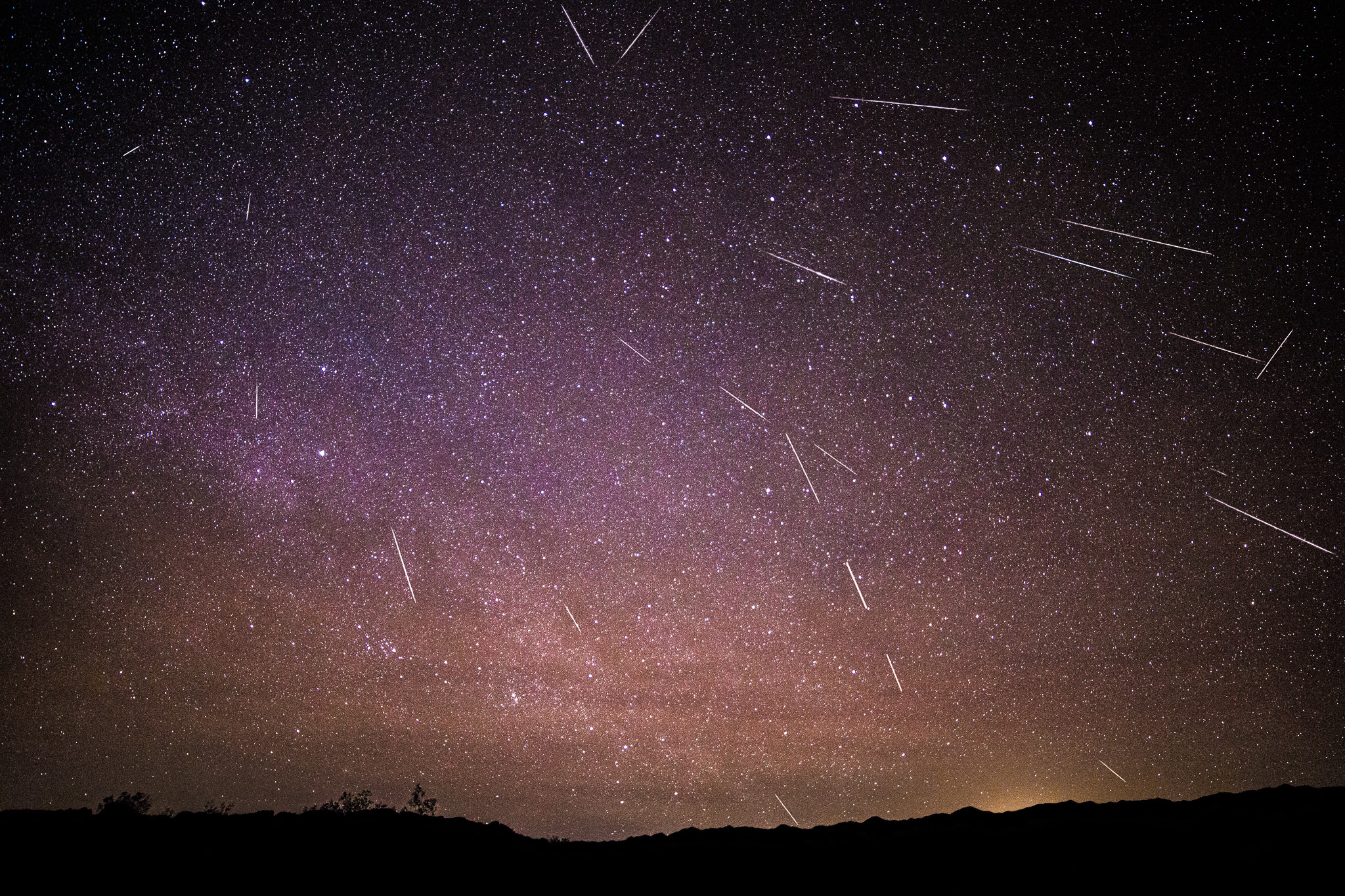 Horseshoe Bend Twilight
Caffeine and insanity. This was taken the morning of December 31st while wrapping up a winter vacation in Page, AZ. Horseshoe Bend is a very popular location to photograph, so I wanted to do something a bit different. I love the subtle beauty and tone of light during astronomical and nautical twilight, especially during the early morning hours.
So several hours before sunrise in temperatures nearing the teens (Fahrenheit) I found myself hiking out to the edge of the cliff by headlamp in the pitch black darkness of a new moon. To get this composition, two of my tripod legs were no more than an inch or two from the edge of the rock ledge and a 1,000' drop.
Adjusting camera settings and focus while only a foot or two from such a drop off makes one VERY alert and aware of the present moment. Being so close to the edge in total darkness during long exposures before dawn was very surreal...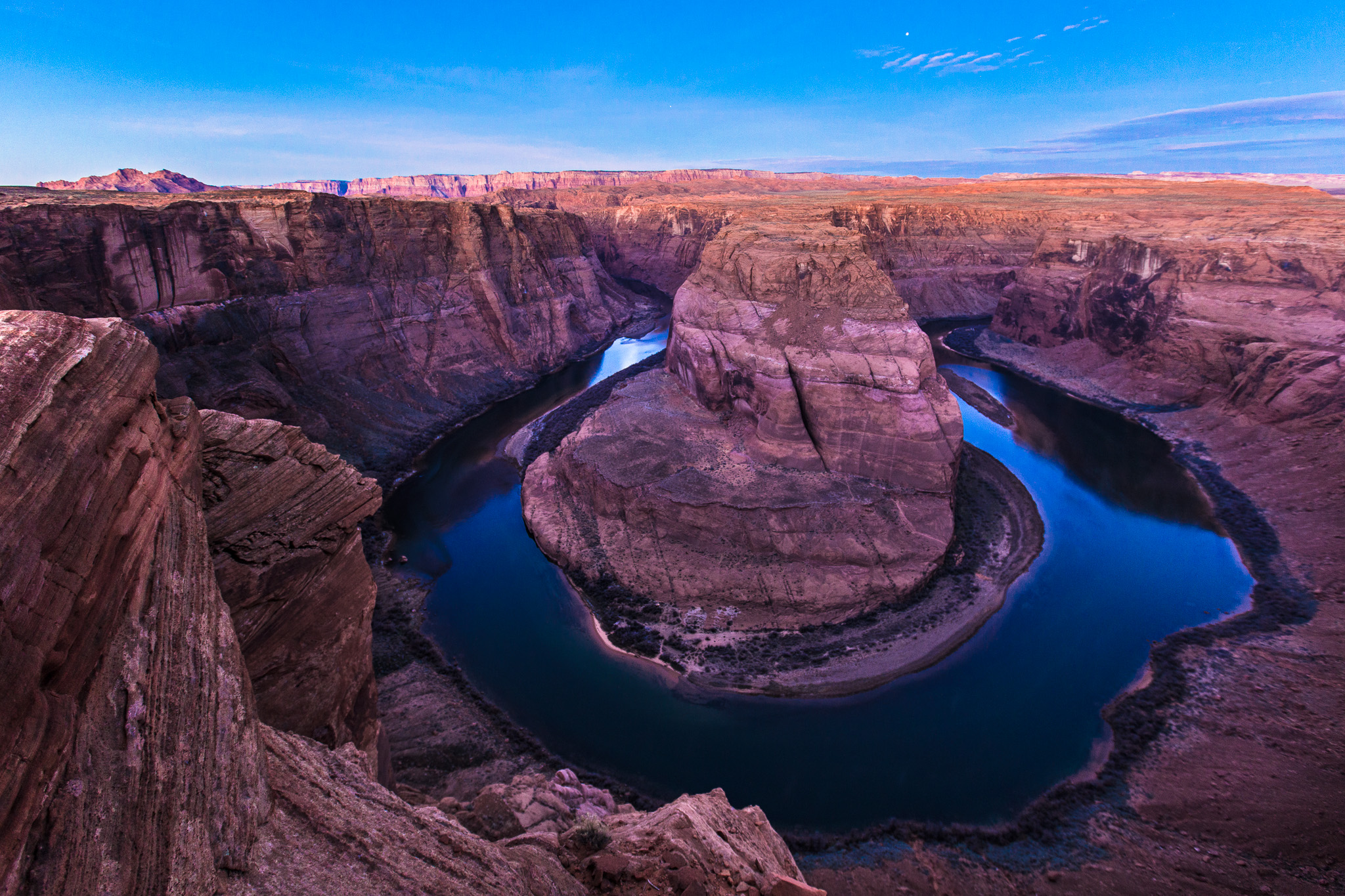 ---
Have a favorite? Let me know in the comments!
I'd love to hear from you. ☺
---
---